Milling is a metal-removal process involving feeding the product against a revolving cutter with more cutting blades. Milling may be used to machine flat or curved surfaces of various forms with high polish and precision.
A milling machine is a cutting tool that rotates while keeping the workpiece fixed. Historically, it is claimed that the milling machine was invented in the 17th century. It was used for milling wood and by clockmakers at the time. Today's modified versions of milling machines are capable of performing a wide range of operations. Over time, we have progressed to the most modern kind of milling machine, the CNC PCB milling machine that excels inaccuracy.
This post will discuss the milling machine, CNC machine parts, types, working principles, and other considerations.
Introduction to a Milling Machine: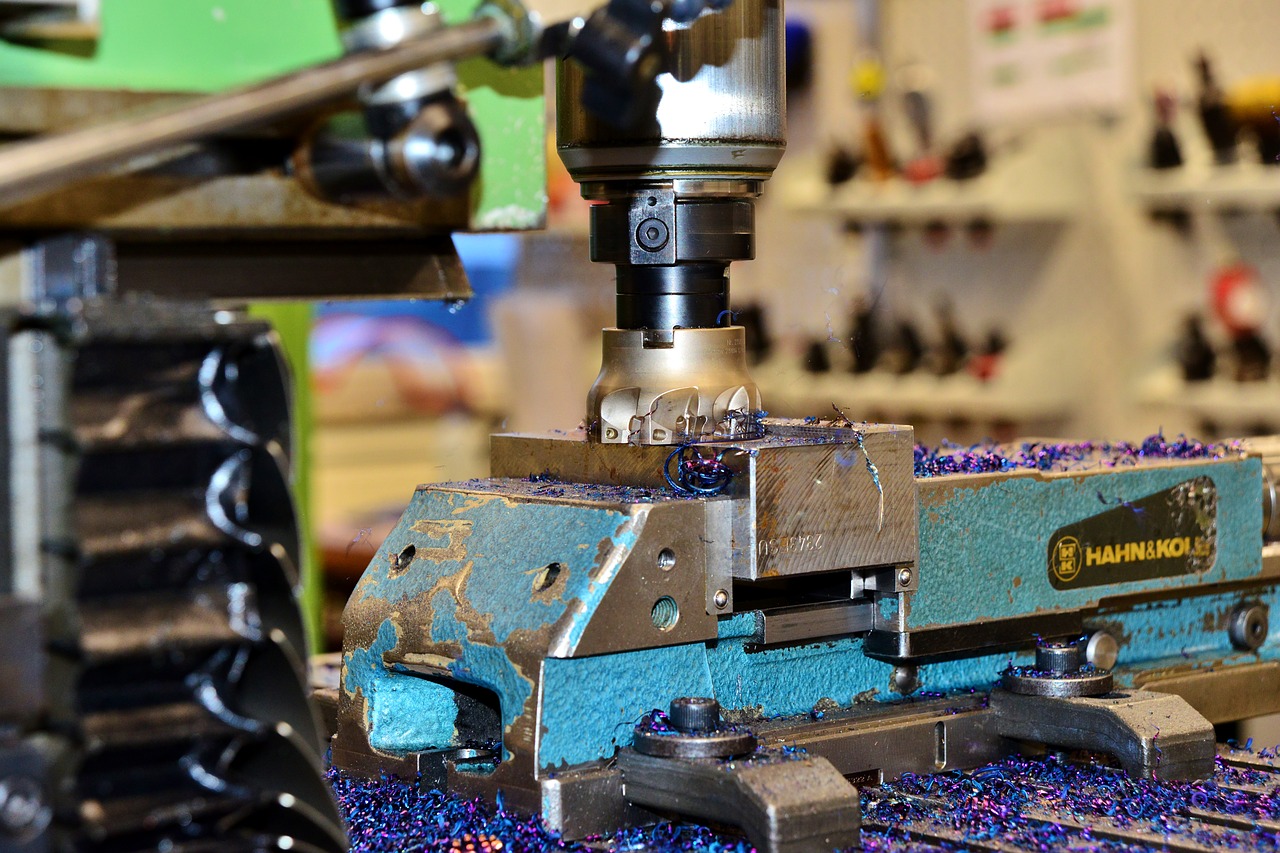 A milling machine is a multipoint cutter that spins against the workpiece, removing material as it does so. After the lathe and the drilling machine, it is the third most crucial machine tool. In the industrial sector, a milling machine is one of the most significant and adaptable devices. It is the most frequently used machine in machine shops and contemporary industrial sectors across the world.
Milling machines have an undeniably essential reputation in the manufacturing industry. Almost every milling operation, such as angle milling, gear milling, thread milling, and so on, maybe accomplished with it. This machine tool is responsible for roughly 85% of the total material removal process.
A milling machine may also be used for drilling, slotting, creating a circular profile, and gear cutting with the right attachments.
Main Parts of Milling Machine:
The basic parts of the milling machine are:
Base & Column
Knee
Swivel Table & Saddle
Power Feed Mechanism
Table
Spindle
Overhanging Arm
Arbor Support
Ram
The Milling Machine Working Process:
The workpiece is positioned on the machine's work table. This workpiece feed against the revolving cutter is controlled by table movement. An arbor or spindle spins at high speed with the cutter attached to it. The cutter only rotates, and its teeth remove metal from the workpiece's surface as the workpiece moves forward, resulting in the desired form.
On one or more axes, milling machines commonly include a power feed. A power feed can help decrease operator fatigue on extended cutting. The power flow is normally controlled by a forward/reverse lever and a speed control knob. Because it is smooth, a power feed can create a superior surface finish than hand feeding.
To remove metal from moving stock, the milling machine utilizes a multi-toothed cutter. The mill head allows the spindle to be fed up and down because of a quill feed lever present on its head. Start the operation with the Z-axis, followed by the Y-axis, and then the X-axis for the manual feeding of the X, Y, and Z-axis. Use the gib locks to lock an axis in place after properly positioned and no longer being fed.
Where is a Milling Machine Used?
Metal-cutting milling machines are widely utilized in the automotive and aerospace sectors because they are leading metal-cutting machines. They are generally designed for flat surfaces, although they may also be used on uneven surfaces. It is possible to accomplish the same outcomes with milling machines as with lathes.
Types of Milling Machine:
Metal (steel, aluminium, or other metals) and plastic (or wood) are the most common milling machines. Milling machines produce single components or small to medium-sized series for industrial applications, equipment, aerospace, and the medical industry. These are also used to manufacture parts required for mass manufacturing, like in the automobile sector.
Most milling machines mentioned in this article are available machines with three axes, manual and digital reading. In addition to operating quickly, these conventional milling machines provide for human or automatic operation of the machine. They are most commonly employed in small workshops, tooling and prototype shops, machining schools, and mechanic's shops.
The milling machine can be divided into many types, but five primary milling machines are discussed here. Most of these cub-types have a coolant system, power-operated table feed, and variable spindle speed.
Knee & Column Type Milling Machines:

The workpiece can be moved vertically up and down with a knee-type milling machine. The knee and saddle are rotated using a vertical column attached to a bed on these milling machines. This column contains all the gear drives. To shift the saddle transversely, it is linked to the thigh slightly above the kneecap and may be adjusted up and down. Different functional types of Knee & Column milling machines are:

Vertical Milling Machine:

There is a vertical spindle-axis on the vertical mill, which rotates around the same axis. This is a 3-axis milling machine that does not require an arbor. There are two cutting edges along the perimeter of its cylindrical face, giving it a cylindrical form. For drilling and cutting tasks, the spindle may be expanded. These vertical milling machines are further classified into two sub-types:

Plain/Horizontal Milling Machine:

The spindle of this milling machine moves horizontally. As a result of a complicated transmission system, horizontal milling machines' single electric motor often controls actions. Horizontal milling machines can accommodate workpieces that require longer or heavier milling.

Rotating tables are used on horizontal milling machines, which allow them to grind at different angles. A universal table has this capability.

Universal Milling Machine:

Horizontal and vertical milling machines can be combined into universal milling machines. Rotary tables are also available for universal milling machines. Universal milling machines can execute all the functions of a shaper machine and also performs helical milling operations. These are best for angles, grooves, milling planes, etc. To increase the capacity of this kind of milling machine, some additional elements are also attached to it, such as dividing or index head, rotary attachment, slotting attachment, and vertical milling attachment.

Planer Type Milling Machines:

With great accuracy and precision, a planer may make flat surfaces and carve slots in wood. In terms of size, it is equivalent to the shaper machine. A "Plano milling machine" is another name for it. Single-point cutting is used for heavy-duty applications.

The table's movement distinguishes Plano millers and planers. The spindle heads on this machine may be adjusted both horizontally and vertically. A planer's cutting speed rises as the table moves, whereas a Plano miller's table moves to provide feed.

Ram Type Milling Machines:

Its spindle distinguishes the ram-type milling machine on a column that may move forward or backwards horizontally. Standard milling machines include universal milling machines and ram-type milling machines with rotating cutter heads. Each of them is attached to the movable housing ram, which permits movement of the machine column along the X-Y axis.

Manufacturing Type Milling Machines:

These are commonly known as fixed bed type milling machines, and as the name indicates, these machines have a tough bed attached. This machine can move in horizontal and vertical directions to perform cutting operations. Its spindle head is moveable that is mounted with the spindle machine, and there is no need to arrange the saddle and knee of this milling machine.

Fixed Bed-type milling machines can be further divided as:

Simplex Type Milling Machine:

It features a single vertically moving spindle. It can freely move on the x-axis or the y-axis

Duplex Type Miller Machine:

Duplex employs two spindles in horizontal and vertical directions.

Triplex Type Miller Machine:

Three spindles allow Triplex to move along the x, y, and z axes.

Special Type Milling Machines:

For milling activities, these are the most advanced milling machines available today. They are used to create keys, engravings, grooves, and cavities. Using a connecting rod and crank mechanism, the milling head is positioned on a trolley and moved in one direction. These are unusual milling machines that can accomplish jobs that regular milling machines can't. These machines allow the tool or the workpiece in different directions by using a specific device with a spindle that rotates the cutter.

A few of the most common particular types of milling machines are:

Drum Type Milling Machines:

Like a rotary table, The drum milling machine has a rotating drum similar to a rotary table. Using a horizontal rotating drum, a metal must be placed on a workpiece to scrap off the surface. A complete turn requires you to remove the completed part and fasten the new one onto it. Three or four spindle heads are used in these cutters.

Tracer Controlled Type Milling Machines:

These milling machines are used to reproduce the irregular or complex shape of dies. Tracing elements and cutters move in a synchronized movement to mold these dies. The table's central hydraulic system is energized using a stylus, and the oil relay system is activated.

Rotary Table Type Milling Machines:

These are machines that use rotary tables have circular tables that revolve vertically. Multiple cutters need to be fixed at different heights. One cutter may rough up a workpiece, and then other cutters are used to polish and smooth it out. The rotary table milling machine's most significant benefit is that the operator may constantly load and unload workpieces while the engine is running.
CNC Milling Machines:
These may be called upgraded versions of the bed-type milling machines. Computerized Numerical Control (CNC) PCB milling machines are the most versatile machines used to process profiles or surfaces that are highly complicated. Computers entirely operate these. The table rotates 360 degrees in these machines, and the spindles can rotate in all three (x, y, & z-axis) directions. A probe device is attached to the milling head, which guides it in its motions on an automated milling machine.
Computer commands control all the hydraulic motions. By input an image of the workpiece's drawing, it automatically cuts the workpiece through its cutters based on the image.
CNC Milling Machine Operations:

Because of the numerous cutting edges, the milling cutter revolves at high speed. It slices the metal at a rapid pace. Single or many cutters can be held in the machine simultaneously, depending on the model. Their accuracy and surface quality make these milling machines popular in manufacturing.

CNC milling machines can perform a variety of milling operations:

Angular Milling Operations: This angle manufacturing process is used on a workpiece not at right angles to the lathe's spindle. V-blocks manufacturing is an example of angular milling.
Cam Milling: The universal dividing head and vertical attachment produce cams on a CNC milling machine. The cam blank is attached to the dividing head spindle in the vertical milling attachment, and an end mill is attached to the vertical mill.
End Milling Operations: This milling tool is impressively beneficial to make vertical and horizontal flat surfaces at an angle to the table. In addition to creating slots and grooves, end milling cutters are also used to develop keyways. When it comes to end milling operations, a vertical milling machine is better.
Face Milling Operations: This most straightforward milling operation requires a face milling cutter to rotate on an axis perpendicular to the work surface. The cutter is placed on a stub arbor to provide a level surface, and the table's crossfeed screw is used to control the depth of the cut.
Form Milling Operations: It's the process of creating irregular contours with form cutters by utilizing form milling. The cutting rate of the form milling is estimated to be 20-30% lower than that of plain milling. Whether convex or concave, the irregular form might be anything. A template gauge inspects the produced surface after machining.
Gang Milling Operations: The table is fed against several cutters installed on the machine arbor in the gang milling process, each with a slightly varied diameter. They're commonly utilized in repeated work since they save machining time by a significant amount.
Gear Milling: In this operation, a form-relieved cutter is used in a milling machine to cut gears. It evenly cuts the spaced gear teeth. Some cutters are cylindrical, while others are end mills. The job is held on a universal diving head and then indexed to cut the teeth.
Gang Milling: Involves the simultaneous milling of various surfaces of a workpiece by feeding the table against several cutters with the same or varying diameters installed on the arbor of a machine.
Helical Milling Operations: The milling in which flutes or grooves are cut on the outside circumference of a cylindrical or conical workpiece. The table is rotated to the necessary helix angle before the operation is carried out. This is the way to revolve the workpiece to get against its blades around a milling cutter.
Profile Milling Operations: Profile milling is used to reproduce an outline or complicated shape from a template or master die on a workpiece. Profile milling requires the employment of different cutters. It is one of the most often used milling cutters in profile milling.
Plain Milling Operations: It's the most popular sort of milling machine operation to use plain milling, and "Slab-milling" is another name of this process. To generate a smooth, flat, horizontal surface parallel to the cutter's rotation, plain milling is carried out using plain milling cutters.
Saw Milling Operations: The saw-milling operation is conducted for the entire parting-off process. A T-slot on the table is positioned directly above the cutter and vice versa.
Side Milling operations: The side milling cutter is used to create a flat vertical surface. This surface is created on the side of the workpiece. Rotating the table's vertical feed screw adjusts the depth of the cut.
Straddle Milling Operations: Using two side milling cutters placed on the same arbor, straddle milling produces a flat vertical surface of the workpiece to create hexagonal or square characters. A set of collars changes the distance between the two cutters.
Thread Milling: A single or multiple thread milling cutters are used to create threads for various purposes in the thread milling machine Thread milling requires a machine run three times to deliver the end product.
Summary:
A milling machine is a versatile tool in the metal industry that is used to construct the shape you want with the help of a computer's cutter. Each milling machine has a speed control function to be customized for a more precise cut. Surface finishing and precision make these devices indispensable for industrial operations.
Stability is crucial in milling machines. Gears, threads, and resurfacing will be difficult and incorrect if the material is not stable throughout the cutting process. Such machines should have wide, solid bases made of cast iron that will not shift or shake while in use. One of many benefits of CNC milling machine is that it is an excellent investment for people who want to finish many tasks. Rather than manually adjusting the equipment, a computer sends orders to it.